Todd Smith, Associate
As President and owner of CFO Alternative Inc., Todd combines the professional skills developed over his 25-year career in finance with an entrepreneurial zest for results-oriented strategic planning and a talent for innovation, on behalf of his small to medium-sized business clients. His ability to help entrepreneurs develop, implement and refine the financial management aspect of their business has enabled hundreds of businesses to achieve and surpass their goals.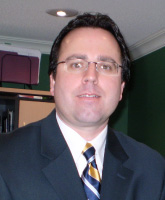 Todd's most impressive success story may be his own: At J.W. Smith Customs Broker Ltd., he rose from a junior position in the Accounting department to part owner and Vice President-Finance in less than seven years. During that period, Todd's entrepreneurial skills and strategic vision enabled J.W. Smith Customs to automate its accounting process, develop strategic alliances in Canada and the United States and restructure itself to include freight logistics.
In 2002, Todd resigned from J.W. Smith Customs to pursue other interests. In addition to running CFO Alternative Inc., he keeps his business instincts keen as President and owner of an Ontario Company that provides White Label automatic teller machines (ATMs) to establishments in Ontario, and by serving on the outside Board of Advisors of seven privately held Canadian corporations.
Todd is a past member of the Canadian Association of Family Enterprise (CAFE), Director of Programming (CAFE Upper Canada and CAFE National). He is active with the Chamber of Commerce and is a sought after speaker and facilitator.
Todd currently resides in Orangeville, Ontario, with his wife and their three children. Email Todd now by clicking on info@nci-solutions.com